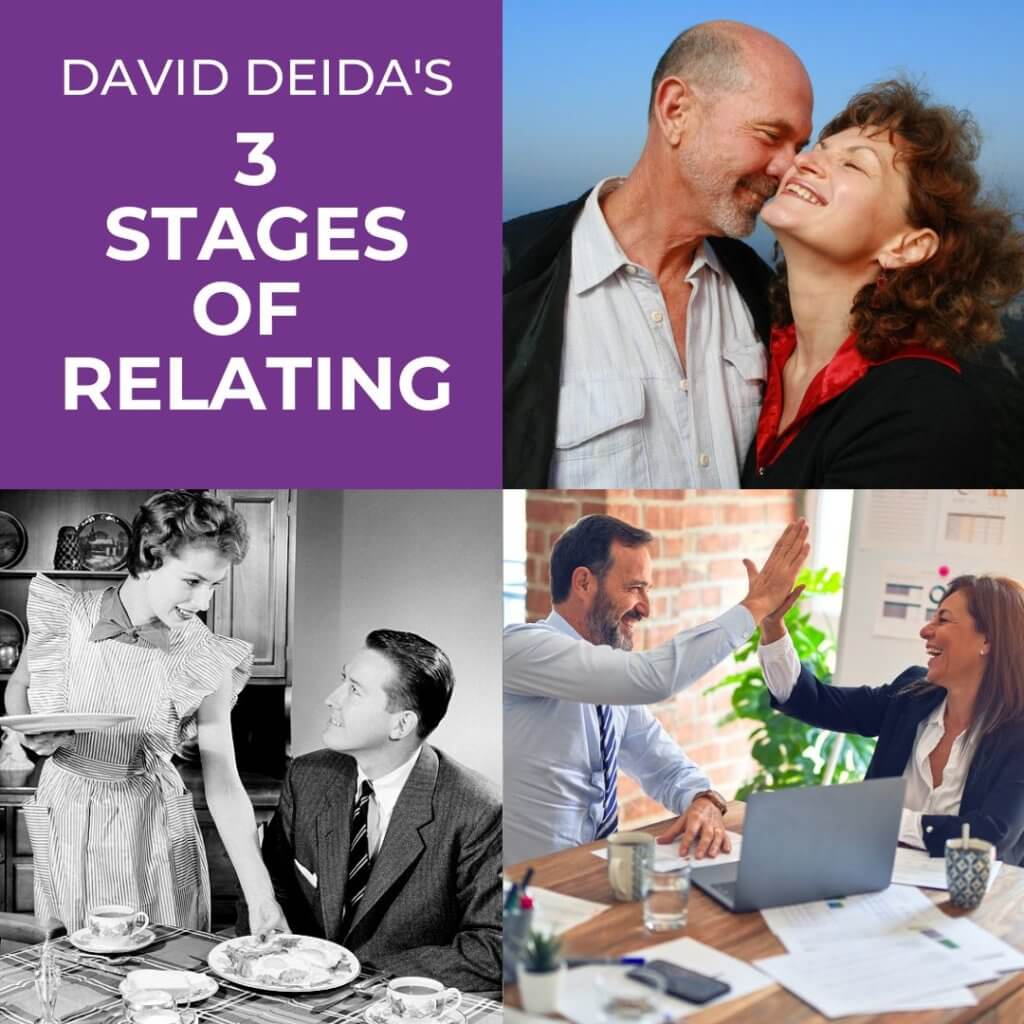 David Deida 3 Stages of Intimate Relationships
I love David Deida's style. His writing awakens all the romantic feelings in me and my admiration of men. I become all dreamy and want to know how else my relating can be enhanced.
According to David Deida, an international teacher and author, there are 3 stages of relating. 
He calls these stages Dependent, 50 / 50, and Intimate Communion. 
What stage is your relationship in? If you are not at the third stage, start dreaming! I know it's possible. I know you have the power to create that for yourself.
Here are David Deida 3 Stages of Intimate Relationships:
Stage One – Dependent relationship
 "A Dependent Relationship involves partners who become dependent on each other for money, emotional support, parenting or sex."
The most common question for this dependent relationship is "What can I get from my partner?"
The driving feeling is fear that says something like "I can't manage without you" or even "I can't survive without you".
This kind of relationship seems to be the traditional way of male & female roles. It involves either financial or emotional dependence and has an air of using the partner for own physical or emotional comfort. The resentment also could be a big part of this dynamic: "Why don't you give me what I need? Why do I have to give to you?"
The generosity of the heart is missing in this mode of relating. It's replaced my powerlessness, blame and resentment.
I differentiate interdependence as a healthy form of dependence. I don't think there is any question about humans being dependent on each other. 
However, with interdependence there is more agency and a sense of freedom. The questions of interdependent relationships are: "What can I contribute to this relationship? What do I need to receive from this relationship for my wellbeing?" My take is, interdependence could fit into 50/50 relationship or intimate communion, depending on the level of heart openness and devotion to love.
The truth is, we all go through this stage of relating and might revisit this stage from time to time. 
Stage Two –  50 / 50 relationship
"Safe boundaries and equal expectations for men and women."
The most common question for this relationship is "How can we share together?"
In this stage of relating, safety and independence are important. It involves two people coming together, working out an equitable relationship. 
It's about two independent people coming together to share life. This type of relationship may be viewed as the "modern" version of relationships. Both parties will want to feel that everything must be equal. 
However, this type of relationship often lacks sexual energy. The polarity needed to ignite the passionate, sexual fire may be missing or will diminish over time. With everything being equal, there is just not enough juice. 
This is more of a well-functioning, friendly, flatmate-style relating.
How do you relate to this stage? What's happening with passion in your love life? Are you excited about spending intimate time with your beloved or are you just functioning together? Are you okay or are you deeply completely in love and living your highest potential?
"If the woman feels her feminine-self less and the man his masculine-self less then, the natural charge between the two people will diminish. Often what occurs after the passion and sexual aliveness diminishes is a feeling of incompleteness. The inner longing to be met and be touched deeply no longer occurs. Eventually one or both partners may become dissatisfied within the relationship and they may look outside the relationship for its fulfilment."
Stage Three –  Intimate Communion
"I relax into oneness and spontaneously give my deepest gift."
The most common question for this stage of relationship is "What is my biggest gift and how can I give my biggest gift to my intimate partner but also to the world?"
By this stage, the couple have grown out of the dependence and the 50 / 50 stage. They enjoy freedom, independence, know how to meet their own needs and feel respected. They are now relaxing into their healthy boundaries. Their hearts are open and alive. 
They now have an inspiration to give their fullest gifts from their hearts. In the practice of Intimate Communion we learn that love is something you do, not something you "fall into" or "out of". Love is something you practice. 
Do you practice love?
David Deida states that "In this type of relationship you learn to practice loving even when you feel hurt, rejected or resistant. First you practice love, and then your native sexual essence blooms, naturally, inevitably, because you are learning to give from your core, which includes the root of your sexuality."
Imagine the world where people stop expecting love, but practice love…
It's definitely a work in progress for me.
If you need support in transforming your relationship to the intimate communion level, apply for a relationship breakthrough session here (only if you are really serious and sense how your life would change once you are completely deeply in love) =>> www.deeplyinloveagain.com/breakthrough
With a big warm hug,
Tarisha