OFF THE PUNISHMENT TRACK. LET'S EMBRACE JOYFUL MOVEMENT THAT SUPERCHARGES OUR FEELINGS OF SELF-WORTH!
---
This episode I'm talking to Courtney McCarthy who is the CEO & Founder of Loyobo FIT, a virtual community dedicated to helping women to ditch diet culture, find joy in movement, and to finally figure out how to love their body.
Want to know how to stop struggling with motivating yourself to exercise? Listen to this episode!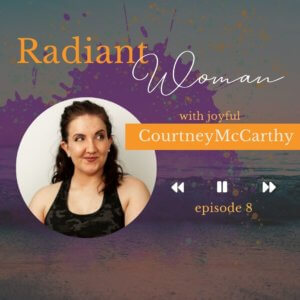 We discussed:
1. The most common reasons why women struggle with feeling motivated to exercise or prioritize self-care
2. What is joyful movement and how does this differ from traditional "exercise"?
3. How does joyful movement relate to feeling worthy or improving your confidence and body image?
Courtney's own journey with health and struggles around body image/weight loss inspired her to become an ACE Certified Fitness Professional. She learned the hard way how broken our views are towards women's bodies and how the formula the fitness industry presents as "the answer" keeps us stuck in a cycle of shame, guilt and self-blame.
Her mission is to prove that there is another way, to help women step out of the struggle and into self-love! She teaches women how to ditch diet culture, how to heal their relationship with food and movement, and how to take the stress out of self-care. She wants you to see that you are MORE than a body and have the power to define health for yourself.

https://www.loyobofit.com/loveyoursiz
https://www.instagram.com/loyobofit
Want to discover how sexually empowered you are, the barriers holding you back and your unique path to soul-fulfilling sexual intimacy?
Take the quiz here www.radiantwoman.co.nz/quiz